Products tagged with 'vacuum cups'
3 Items in Grid
4 Items in Grid
List
JVTKIT
Eliminate the need for manually pumping Vacuum Cups and power them up with our new JVTKIT set. Complete with 2 Visual Vacuum Cups and 2 PowerPumps™.
Each cup measures 7" in diameter with a lifting capacity of 90 lbs (41 kg) per cup for curved glass.
With the PowerPump™ now in your cup, turn it on, place it on the glass, and let it draw down automatically.
PowerPumps™ offers a minimum of 5 hours of constant run time and can be used as a manual pump if they need to be recharged.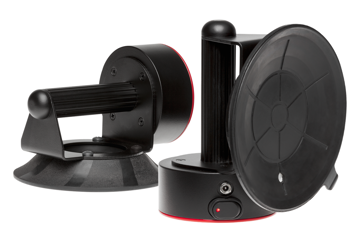 JP140SD
*Used pair with minor smudges on cup and minor scratches on cup protector
Equalizer® JetPacks™ vacuum cups eliminate the need for manual pumping. If the cup loses vacuum, the AIRFORCE™ vacuum technology takes over and keeps that valuable suction going until the cup has maximum vacuum again. Equalizer® JetPacks™ have a 7" diameter cup with a maximum safe working load of 100lbs/45kg. They will fully charge within two hours. The single cup comes with one 120 volt charger..